Shipping Agency, Freight Forwarders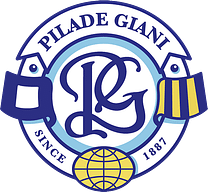 Pilade Giani company was awarded in 2012 as one of the Hystorical Enterprises of the Chamber of Commerce of Livorno and soon the first 130 years of activity will be celebrated in the XVIII century palace in the heart of the city. Pilade Giani Ltd is one of the three company of Giani Group, all family owned and which still belong to the descendants of Mr. Pilade Giani, today reaching the fifth generation inside the societies. Representing the leading company among the group for the freight forwarding, Pilade Giani is specialized in moving cargo FCL, LCL, in reefer containers ( perishable goods as well as frozen ones), in liquid and dangerous commodities through its ISO Tank containers fleet, as well as break bulk or project cargo. One sector of the company is specialized in Customs brokerage and the in-house section is operative for Giani's own clients as well as for many shipping lines and other forwarding agencies. The custom team is under continuous training, to cope with the everchanging rules and procedures, milestone of the new global logistic world, and it operates under control tower regime. Through this sector the company offers also consulting services for customs regulations and international trading. Together with the other companies of the Group, Pilade Giani carry out the shipping agency activities for tramp vessels, for liner vessels as protecting agents, while a dedicated department deals with cruise ships provision and spare parts and also assistance for yachting.
Pilade Giani heritage, left to his son and grandchildren has been the responsibility to care about his customers the way he used to do. That is why, still today, the mission of the company is the total customers' satisfaction. Every service is carried out by expert staff, which will assist you from the first contact up to the very final delivery of your goods.
Since 2013, right after Sergio Giani passed away, the President of the Group is his daughter Maria Gloria, who is sharing the management with her brother Federico, supported by a team of young men and women with a passion for their work and who represent the natural continuation of a tradition that has always focused on customer satisfaction. In 2022, April, Maria Gloria totally took over the company, becoming its sole owner. Since 2019, her daughter Beatrice who graduated in Transport and Logistic Management and joined the Company in 2015, is the Marketing Director of the Shipping Agency Department, Yachting and Cruising section.